We have one more reason to be proud. One more reason to express our joy. It's all thanks to our new crown jewel, El Salvador by Pacas, the most recent addition to the unique Coffee Island collection of Single Estate coffees. Our new El Salvador single estate coffee has taken an honored position among our famous Peru, Brazil, Colombia, and Ethiopia, single estate varieties.  

Uniqueness born from the ashes of a volcano…
The San Jose farm, located in the region of Los Naranjos, Juayua, Sonsonate, is distinguished by its closeness to the Santa Ana volcano and the luxuriant shade of the tropical Inga trees. These two geographical characteristics ensure the stability of the cultivating conditions, for a smoother maturation process of the coffee plants. 
According to Federico Pacas, who belongs to the 5th generation of farmers in his family, his family owns 7 farms with a total area of 230 hectares and a fully integrated central coffee mill. A total of 110 full-time employees are supplemented, during the harvesting period, by 240 additional workers. At the Pacas farms the coffee beans are processed in three different ways: the washed process, the honey process and the natural or dry process.
At the Pacas farms, there's always a search underway for new processing techniques, such as anaerobic fermentation, macerated fermentation, shade or sun drying and others. The Pacas' quest is to find optimal ways to process coffee 
that will improve on the processes, which they have mastered over the last 20 years.
There are approximately 1.1 million coffee trees on the family's farms, where about 21 varieties are grown, including Red Bourbon, Pacas, Pacamara, Sarchimor, Yellow Icatu, Geisha, SL 28, Anacafe 14, and Catimor. Pacamara is very distinctive and widely appreciated. It has a very characteristic big bean, necessitating a reduction of package capacity: from 200g to 170g. 

Let's meet, before we sip!
Close your eyes and imagine the taste! Apricot, hazelnut, cocoa: this cup profile has a rich body, medium acidity, and a sweet, lasting aftertaste. A strong 100% specialty arabica Pacamara variety, in a medium to dark roast, is enough to excite any coffee-lover, especially a devoted, passionate, coffee drinker like Federico Pacas. After all, Federico is born into a family with an illustrious coffee history and he is surrounded by the world's finest coffees. When you belong to the 5th generation of coffee farmers, as Federico does, your every childhood memory is inextricably connected to coffee. 

From the past to the future
The Pacas family is renowned for its superb coffee quality beyond the borders of El Salvador. How did this world-famous coffee family get started? Around 1800, Jose Rosa Pacas decided to explore the world of coffee and planted Arabica coffee trees of the Bourbon variety all over Apaneca Lamatepec mountain. In 1905, Fernando Alberto Pacas Figueroa discovered a natural mutation,in some of the plantation's trees, which resulted in far more productive seeds. The new trees resulting from this mutation were of a new variety named after the Pacas.  

Federico Pacas divides his day between the coffee farms and the coffee mill, where the offices are located. He enjoys spending as much time as possible on the farm, right where the action is, but sometimes his managerial duties require his time in the office. Of course, Federico's life extends beyond just work; he makes sure to spend quality time with family and friends.
Although 10 years ago Federico chose to follow a different path, away from coffee, he returned to the farms and grew to greatly appreciate the magnificent fruits of his parent's and grandparent's labor. Now, he feels blessed to be a part of this world. 
So much for Federico's past. How does he see the future, and what are his dreams for the future? Federico works every day to ensure that his coffee operations keep evolving in terms of sustainability. At the same time, he prepares his people to welcome the new reality confronting the coffee industry and to make a strong contribution to the local communities. Undoubtedly, he would love to visit Greece. We are hoping that opportunity will arise with the upcoming WOC, taking place in our country.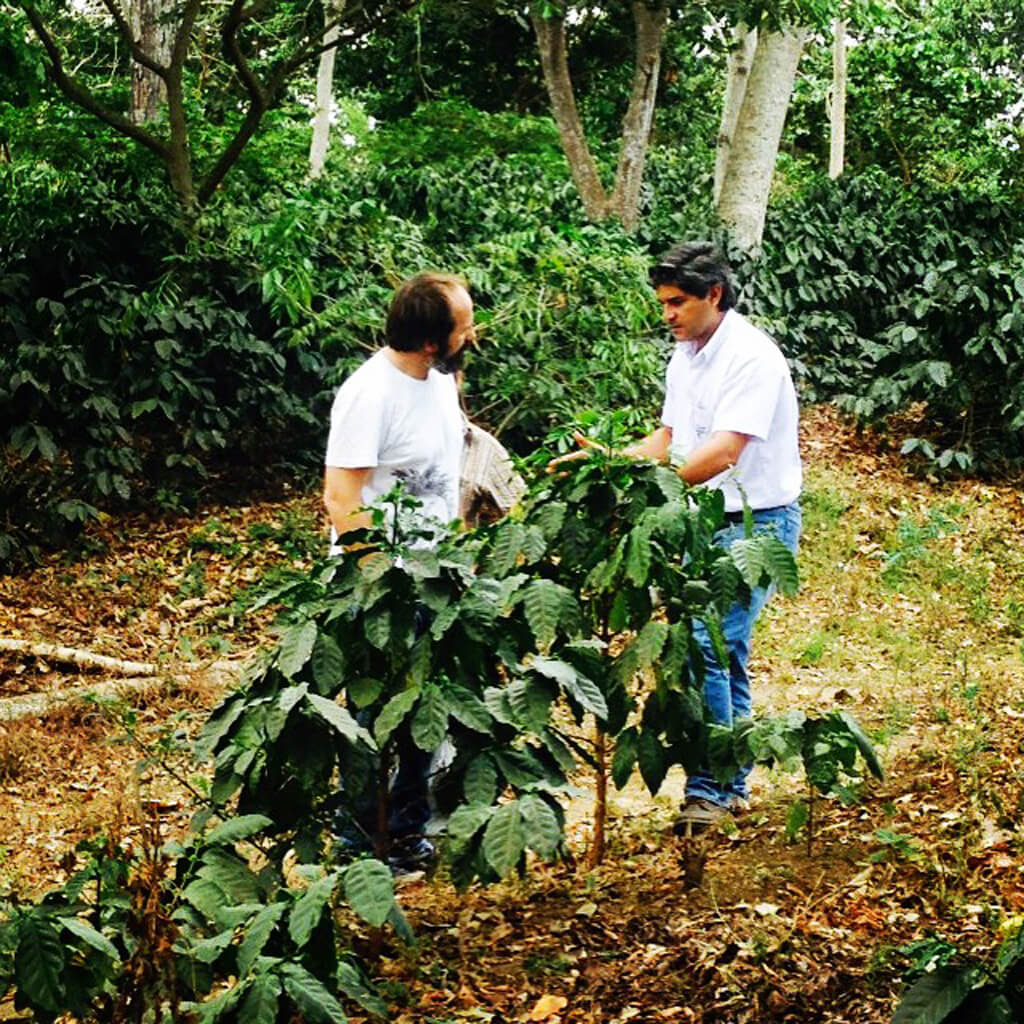 Our Coffee Explorer, Panagiotis Konstantinopoulos, in the San Jose farm with the coffee producer Federico Pacas, during our first trip to El Salvador, in 2015.
Bonds that go beyond professional relationships.
Coffee Island has turned into an integral part of the farm. Pacas himself says that "We have built more than a good business relationship. It's a friendship reflecting loyalty, honesty, transparency, and joy, factors that are crucial for the success of any relationship.".
Don't forget…
Try this unique coffee by ordering it online or by visiting our stores. Experience the superb range of specialty coffees that respect tradition, values, and the environment. 
Share This